The broader crypto market saw consolidation gains this week after a poor December. VeChain (EFP) has followed major coins like Bitcoin and Ethereum to report gains. Indeed, since the start of the week, VeChain (VET) has increased by almost 25%. The coin also rose nearly 5% in intraday trading today. But can this uptrend hold? First, here are some highlights:
VeChain (VET) has been one of the top performing altcoins over the past 7 days, with gains of up to 25%

Despite this, the coin is still 50% below its November highs and 65% below its annual highs.

The Relative Strength Index (RSI) shows that the bullish momentum is accelerating, even though buying activity is not that intense.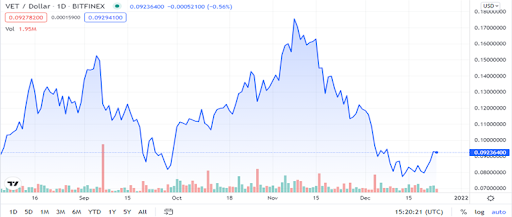 Data source: Tradingview.com
VeChain (VET) – Price Action and Prediction
Recent weekly gains appear to have pushed VeChain (VET) back into an uptrend after spending the most time in the red this month. Right now, the coin has passed its 50-day simple moving average. We are also looking at a very positive RSI with bullish activity expected in the near term.
VeChain (VET) still needs to exceed $ 0.0963 for a breakout to be visible. At the time of writing, the coin was a bit below this resistance with a price of $ 0.09174. It's also important to note that VeChain (VET) is still over 65% below its all-time highs this year. The coin is highly unlikely to test these numbers again in 2021.
Should you buy VeChain (VET)
VeChain (VET) at one point peaked at a market cap of nearly $ 16 billion, showing that it had garnered a lot of investor confidence. The coin has since lost nearly $ 10 billion in market cap since then, but despite this, long-term fundamentals are still very good for VET. For people who just want to buy and hold, this is a decent addition.
Post VeChain (VET) Sees Take Off After Larger Crypto Market Gains – Can It Maintain Momentum? first appeared on Coin Journal.