B2BX, a professional digital asset trading platform, today announced that it has added 61 new crypto pairs for trading with further news about several platform enhancements to the benefit of its users.
New Cryptocurrency Pairs
The good news for B2BX exchange users is that they will now have access to 61 new cryptocurrency pairs. The expanded list of pairs means they will have many more trading opportunities when they visit the exchange, and can go on to deposit from a broader range of currencies and trade on them. By adding additional trading pairs, B2BX offers a constantly improving service with an outstanding experience for the increasing number of exchange users. The following pairs are now included:
Order Book
A 100×100 orderbook is supported for the pairs that have been added, effectively 12200 ticks a second and 732000 tickets a minute. This highlights the fact that B2BX can offer the deepest liquidity and accept very large orders.
UI Skeleton Mode
B2BX now features an enhanced UI Skeleton Mode. Instead of the old logo loader, the widgets have been reworked by the team so that they have an animated skeleton loading. The result is a highly professional user interface.
Design
New Wallets Grouping and Details
More improvements to wallets grouping and details have been added. The wallet page is now sorted into horizontal categories, with either a grid or table view possible. Users are also able to see the wallet details separately on a different page.
Grouping Design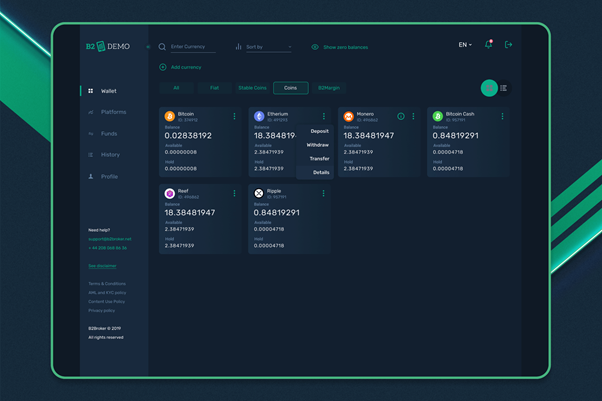 Details Design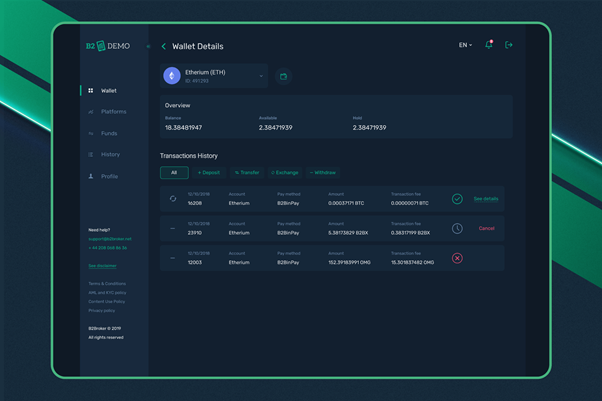 Mobile App
We also remind B2BX users that the mobile app is available on the Apple Store, providing the dashboard with all the key information, fast deposits, withdrawals, transfers and accounts opening functionality, as well as a range of other features.
About B2BX
B2BX is a full-featured spot trading platform offering crypto-crypto and crypto-fiat trading pairs which enables users to trade major digital assets and cryptocurrency, including Bitcoin, Ethereum, NEM, Litecoin, Ripple, NEO, Monero, NEM and Dash.
The exchange accepts individual and corporate clients with advantages including different order types, advanced API (WebSocket and REST), multiple options of fiat deposits and withdrawals with security options such as funds protection, 2FA and KYC, all with the benefit of the lowest trading fees.