Meme cryptocurrencies are one of the hottest assets in the crypto market currently. The once-disregarded sub-sector is making a name for itself. Even though most dog-themed virtual currencies lack any real-world use case, they have massive online communities.
One of such is Shiba Inu, a Dogecoin knock-off, which has been on a tear lately. The meme coin is up 8.115% in the last 24 hours. With meme tokens becoming more popular by the day, several investors are out to buy SHIB due to its low price. In this article, we will consider the asset's recent rally and see if this is a great time to invest.
Shiba Inu: Taking Meme Coins To The Next Level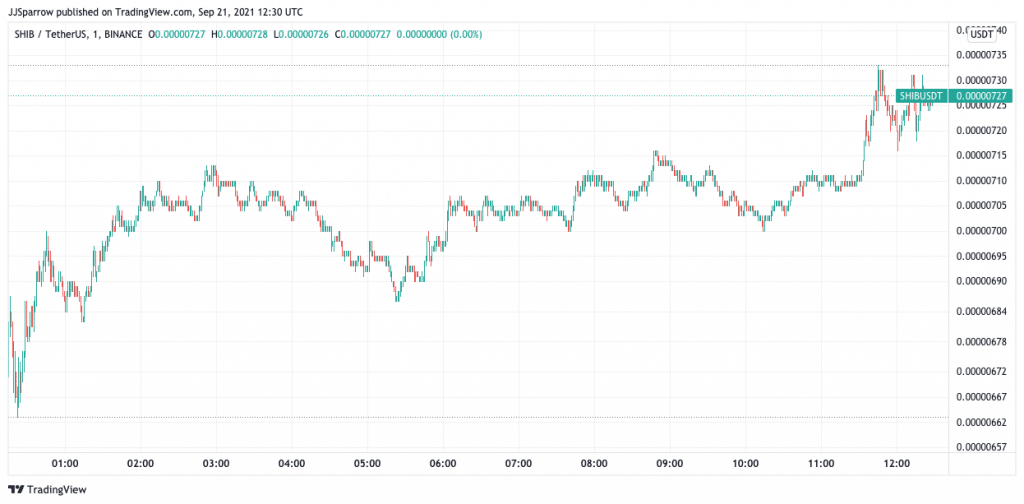 Shiba Inu shares a few similarities with the popular Bitcoin knock-off, Dogecoin. For one, it is a meme coin and another is that it shares a similar name to the premier dog-themed crypto asset. The similarity is taken further by the massive online communities both crypto protocols enjoy. Tesla and SpaceX boss Elon Musk is a popular supporter and is a major influence in the price gains and ebbs of both tokens.
However, in some situations, Shiba Inu differs from Dogecoin. For one, it is built on the Ethereum network, which is the premier destination for all smart contracts-enabled blockchain-based applications. Another is that Shiba Inu wants to take the canine-themed crypto sub-sector further than where it met it.
Developed as well by a mysterious character known simply as 'Ryoshi,' Shiba Inu is looking to create an entire ecosystem where it keys into trending blockchain solutions while still engendering a fun and dynamic community of users.
This is done through the platform's decentralized exchange (DEX) aptly named ShibaSwap where users can provide liquidity, stake, and swap different assets almost instantaneously. Aside from operating as a DEX, ShibaSwap also boasts non-fungible token (NFT) capabilities. Users of the platform will be able to buy and sell dog-themed digital collectibles on the platform. ERC-20 token SHIB serves as the protocol's governance token.
SHIB: Struggling Against The Bearish Storm
The meme token currently sits on the 49th position on the most valuable crypto ranking with a $2.87 billion market valuation.
Massive sell-offs and returns have characterized the crypto market for much of this year. SHIB has also been a major player in a highly saturated crypto space and its 21,000% surge in one week separated it from other meme wannabes, placing it as a direct rival to the more established DOGE.
SHIB piqued investors in the early hours of today after it rallied 8.115% to $0.00000727 as the crypto market tries to find its feet again. A remarkable increase of this magnitude could signal the beginning of another crypto bull run in the coming day. This rally could be a great time to buy SHIB and rise with the market.
SHIB Technical and Fundamental Analysis
On the trading charts, SHIB is showing remarkable resilience against the market correction.
The digital asset trades above the 20-day moving average (MA) price of $0.00000718. If the bulls continue to sway the market in their favour, SHIB could find support at $0.00000800 in the coming days. An investment in SHIB could yield massive returns in the coming days.
Considering its relative strength index (RSI) meant to measure purchasing power, SHIB is at a healthy 47.85, meaning several investors want to buy SHIB. This rally could mainly be as a result of the recent debut of the canine-themed cryptocurrency on top US Bitcoin exchange Coinbase over the weekend.
In a September 16 blog post, the centralized exchange noted that customers can now buy, sell, and store SHIB tokens on Coinbase.com. This news saw SHIB surge 31.9% with investors piling up on the Dogecoin killer.
Buy SHIB at eToro from just $50 Now!