The Shiba Inu price jumped by more than 30% on Friday as investors cheered the decision by Coinbase to add the token into its platform. SHIB jumped to a multi-week high of $0.000013, pushing its total market capitalization to more than $3.59 billion. It is now the 46th biggest coin in the world. It sits slightly below The Graph and slightly above Neo.
Why SHIB jumped
Shiba Inu is a cryptocurrency that belongs to the class known as meme coins. Other top cryptocurrencies in this class are Dogecoin, Baby Dogecoin, and even Safemoon. Shiba Inu was launched in May as developers took advantage of the popularity of Dogecoin. 
Today, DOGE has a total market capitalization of more than $33 billion and is the 9th biggest cryptocurrency in the world. It has also been endorsed by Elon Musk, the richest man on earth.
Since its launch, the developers have launched two other similar tokens like Leash and Bone. Still, the Shiba Inu price has lost momentum after its initial popularity. This happened as investors sold their tokens as cryptocurrency prices crashed. At the same time, interest in meme coins appeared to wane.
The Shiba Inu price jumped by more than 30% today after Coinbase listed the digital token. In a statement, the company said that Shiba Inu aspired to be an Ethereum version of Dogecoin. This listing was notable because of the popularity of Coinbase, which is the second-biggest cryptocurrency exchange after Binance. 
So, is SHIB a buy after this inclusion? Historically, cryptocurrency prices tend to jump after a major event like inclusion of a major exchange. We saw the same thing happen when Coinbase listed Dogecoin. However, in most cases, this jump tends to be short-lived since investors sell on the news.
Shiba Inu price prediction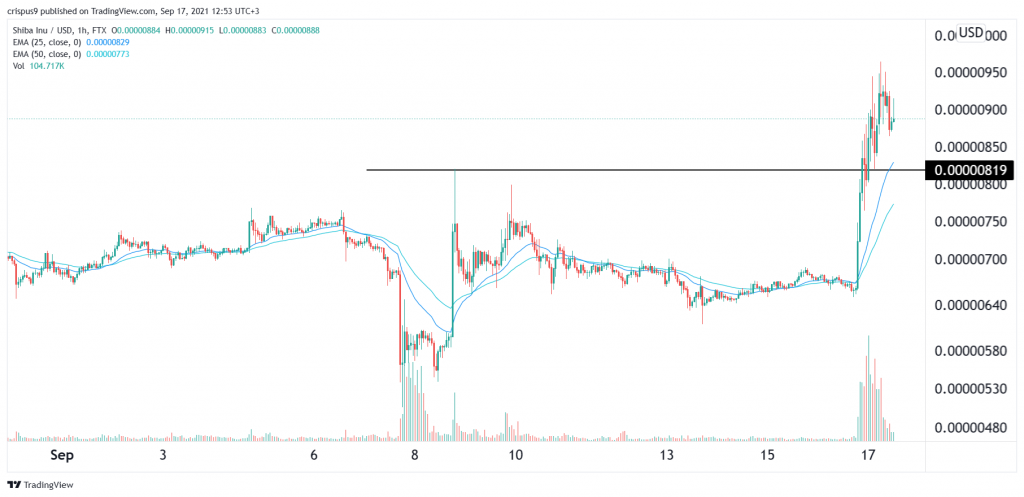 That said, turning to the hourly chart, we see that the Shiba Inu price jumped to a high of $0.000013 after Coinbase's inclusion. As it rose, it moved above the key resistance level at $0.0000089, which was the highest level on September 8. It also moved above the short and longer-term moving averages. The initial volume has started waning.
Therefore, I suspect that the SHIB price will retreat soon as bears target the key support at $0.0000081, which is about 8% above the current level. This decline will be part of the break and retest pattern.