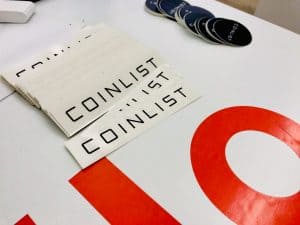 Digital asset platform CoinList says that its mission is to promote the advancement and adoption of crypto-assets.
CoinList writes in a blog post that they have been working with some of the leading initiatives to help with powering their digital token sales, while also connecting them to talented developers and validators. The platform also aims to provide them with a "trustworthy" market for trading.
As mentioned in an update from CoinList:
"One of the most common requests we receive from our community is to provide trading and wallet support for more high quality assets. Today, we are excited to announce the next four assets available for trading on CoinList Pro: Origin (OGN), Chainlink (LINK), Maker (MKR), and Uniswap (UNI)."
Origin Protocol (OGN)
Origin Protocol is a network that enables market participants to share various products and services via P2P networks. The platform aims to "create an extensive online marketplace leveraging the Ethereum (ETH) blockchain and Interplanetary File System (IPFS) in order to eliminate the need for middlemen."
Origin Protocol "runs on its native OGN tokens, which are used in incentive systems, staking, governance and payments." In 2018, the OGN token sale on CoinList reportedly added over 500 token holders to the Origin community, "with $6.6 million in OGN tokens purchased by participants from 55 countries."
CoinList noted that they're pleased to again welcome Origin to the CoinList family.
Uniswap (UNI)
Uniswap, a protocol for exchanging ERC-20 compliant tokens on Ethereum, is "one of the most-used crypto trading platforms with more than $20B traded since inception." Uniswap's protocol design "eliminates centralized intermediaries, allowing for fast, efficient trading."
In September 2020, Uniswap had introduced its UNI governance token "with an airdrop to anyone who had used the protocol before September 1."
Chainlink (LINK)
Chainlink is an Oracle network that offers smart contracts with a decentralized infrastructure to "securely access data feeds, APIs, and other external information that is relevant for a given application." From a macro perspective, Chainlink serves as "a catalyst for new and exciting integrations of blockchain technology into areas dominated by more traditional solutions."
Maker (MKR)
Maker is considered an industry leader in the decentralized finance or DeFi movement and the protocol "behind the two tokens, MKR and DAI." The DAI is a stablecoin that "maintains a roughly 1:1 peg to the USD." The MKR token "enables governance for the Dai Credit System. Holders of MKR make key decisions on the operation and future of the system."
Have a crowdfunding offering you'd like to share? Submit an offering for consideration using our Submit a Tip form and we may share it on our site!
(function(d, s, id) {
var js, fjs = d.getElementsByTagName(s)[0];
if (d.getElementById(id)) return;
js = d.createElement(s); js.id = id;
js.src = "https://connect.facebook.net/en_US/all.js#xfbml=1&appId=437085816335667";
fjs.parentNode.insertBefore(js, fjs);
}(document, 'script', 'facebook-jssdk'));