Binance Coin has posted a slight increase on the day after crypto markets staged a general but muted recovery on Wednesday.
Regulatory concerns continue to haunt the markets and could yet spur a renewed round of selling if traders decide to run towards safe-haven assets. The upside in Binance Coin price appears to be limited, as recent markets from regulators continue to double down on the negative view that those responsible for regulating markets have about cryptos. Chairman of the Securities and Exchange Commission Gary Gensler has indicated in a Washington Post interview that he wants cryptos classified as securities to come directly under the watch of the SEC.
The Binance exchange is moving along this line, making a series of changes to align with regulators' wishes along the line. But this is not going down well with crypto enthusiasts who prefer to keep cryptos decentralized. 
Binance Coin Price Prediction
The Binance coin price prediction sees price attaining 379.84 on intraday recovery. However, additional upside movement on the pair relies on the bulls pushing the price action above 520.75. This move requires a break of 433.83 and 450.60 to break the daily chart's lower highs and lower lows. 
Otherwise, failure to push beyond 379.84 or 400.01 could result in retracement selling at those areas, targeting new lows at 333.89 and 314.94. A further decline makes 278.12 and 249.72 available. 
Daily Chart: Binance Coin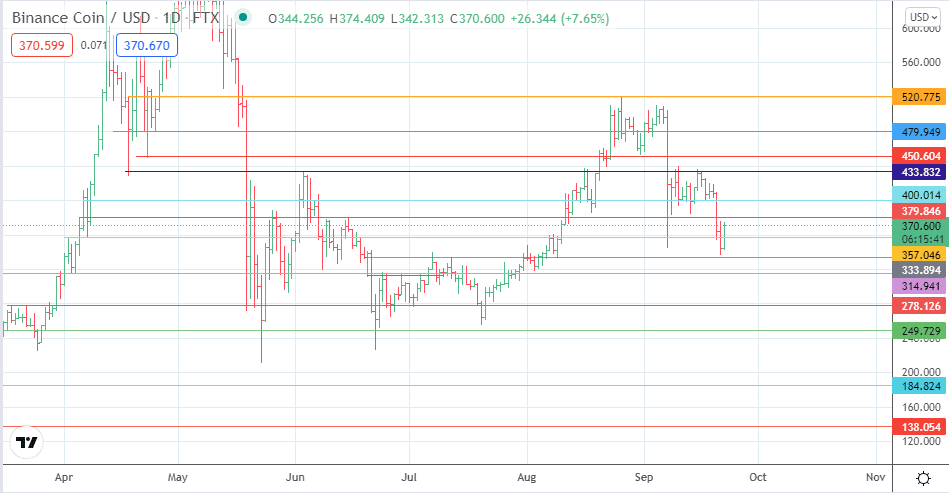 Follow Eno on Twitter.